Jump to about us
Jump to store information
Jump to our blog
Paces Papers: Best Invitations of the Decade
Down south in Atlanta, Oblation Papers & Press was recognized by Paces Papers for having the best invitations of the decade. In this feature, they highlight our luxurious handmade paper that's made in our Portland, OR studio.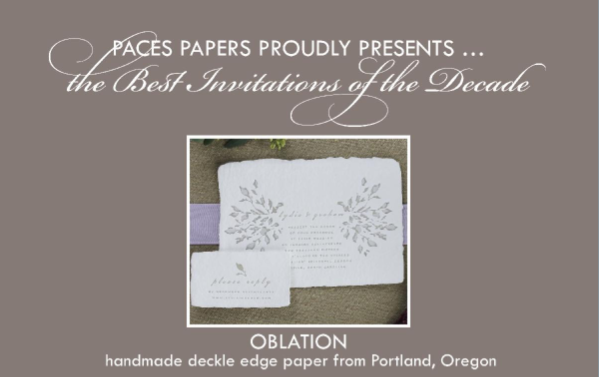 Stationery Trends: Winter 2020
Oblation Papers & Press was featured in both the digital and physical editions of this publication. Online, our wildflower mix thank you wish stands out in the terraza print section, see here. In the magazine, the Paris coasters serve as travel inspiration with their map pattern. See them on page 34, pictured below.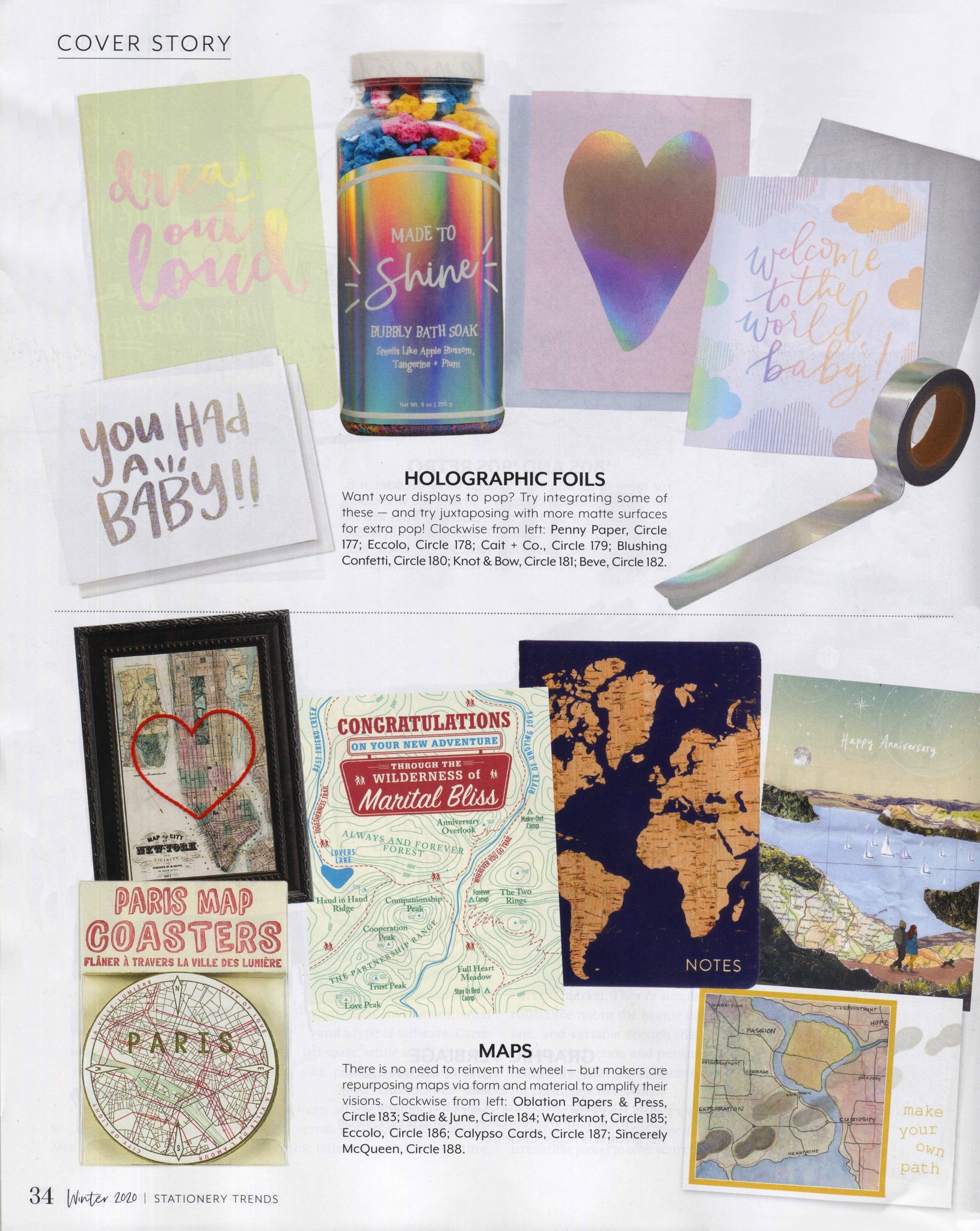 To quote Artslandia, come to Oblation Papers & Press to "browse sublime stationery, letterpress cards, and vintage typewriters." See it on page 45 here.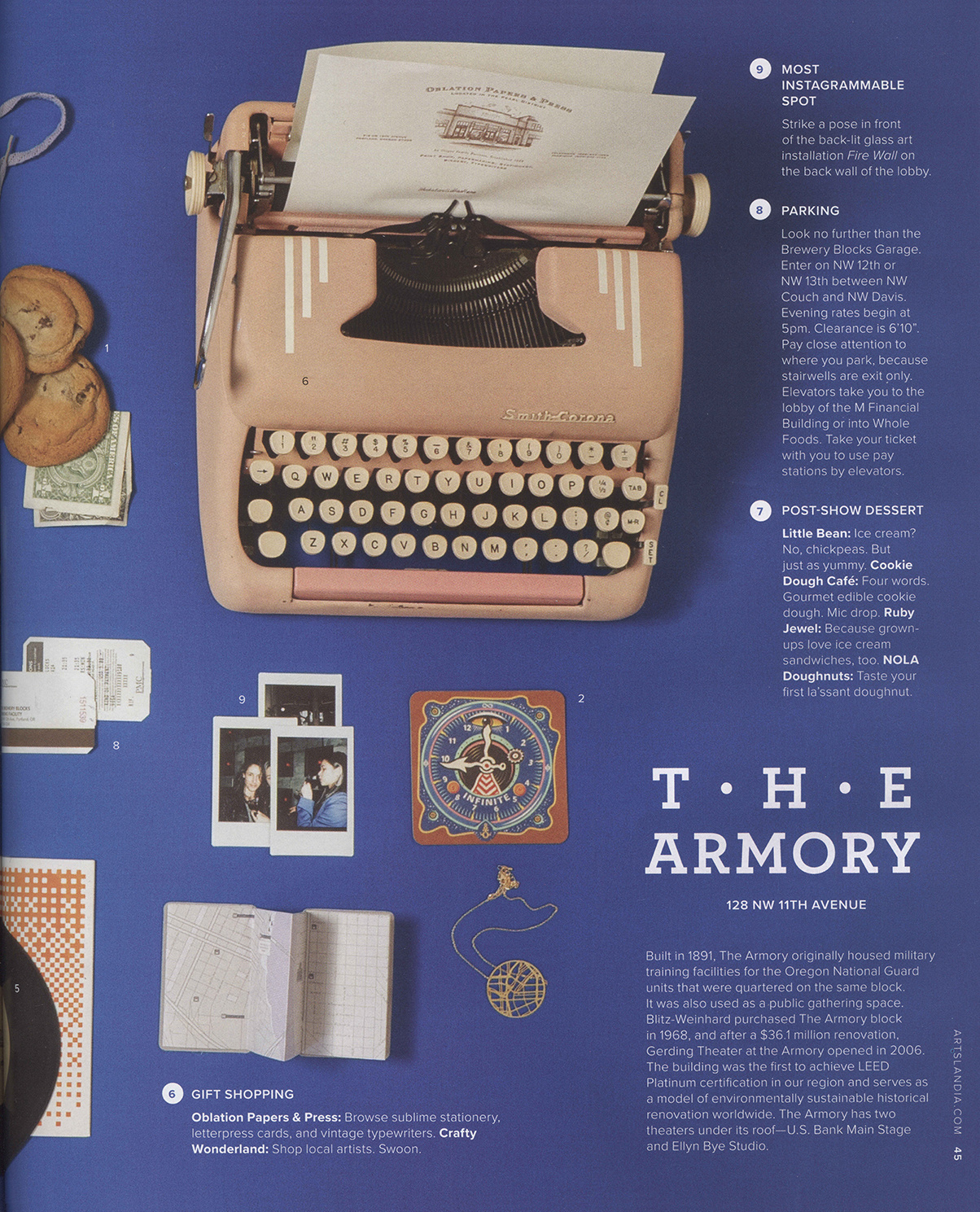 We are delighted to be featured on page 25 in Victoria's November/December 2019 issue that radiates Christmas joy! Order your copy of Victoria now here.
Oblation Papers & Press is many things. Part stationery shop, part urban paper mill, part letterpress print shop, the sprawling Portland, Oregon, destination was founded by married couple Jennifer and Ron Rich. The first seeds of it were planted in the first days of their marriage. (read now)
Stationery Trends wrote a lovely profile on our founders and owners, Jennifer and Ron Rich. Learn about them and find out more about Oblation Papers and Press in this article. (read now)


In February 2019, we launched our vegan watercolor paper innovated by our master paper maker Kalin Stoev. Portland State University's Vanguard publication sent a representative to learn more about it and the paper making expert behind it. (read now)
This isn't your run-of-the-mill stationery store. Oblation is also an eco-friendly, urban paper mill that makes 100% cotton paper by hand from the garment industry's recycled remnants. Let's not forget to mention its letterpress print shop with presses over 100 years old. (read now)
Ron and Jennifer Rich founded Oblation Papers & Press in 1989. Together they made handmade paper using recycled fibres, flora and ferns in their kitchen blender. Today, their company includes a retail venue in Portland, Oregon's artsy Pearl District, a letterpress print shop with traditional presses, some 100 years old, on which they handset type, an urban paper mill, and a flat printing and a wholesale product line. The company specializes in custom wedding invitations, baby announcements and personal correspondence, as well as, business and calling cards.
Dedicated to conservation, Ron, Jennifer and their staff use traditional techniques to make sheets of cotton paper by hand, using recycled remnants from the garment industry and unwanted paper products, converting them back to pulp, creating fresh, new paper. Custom invitations are set and printed in-house using soy-based inks and citrus solvents. Each distinctive piece is finished by hand.
Beards, bikes, "Portlandia." Portland is known for many things. But, arguably, its three best attributes are its beer, artisan shopping and restaurants.
Venture into the Pearl District for easy access to all three. Once home to warehouses and light industry, the area's low-slung brick buildings are now filled with hip boutiques, up-and-coming restaurants and the state's brewing heavy-hitters. Here's where to go.
Stop at Oblation for its sweet and irreverent stationary, as well as a counter of refurbished vintage typewriters for sale (there's even a typing station outside — SO "Portlandia"). (read now)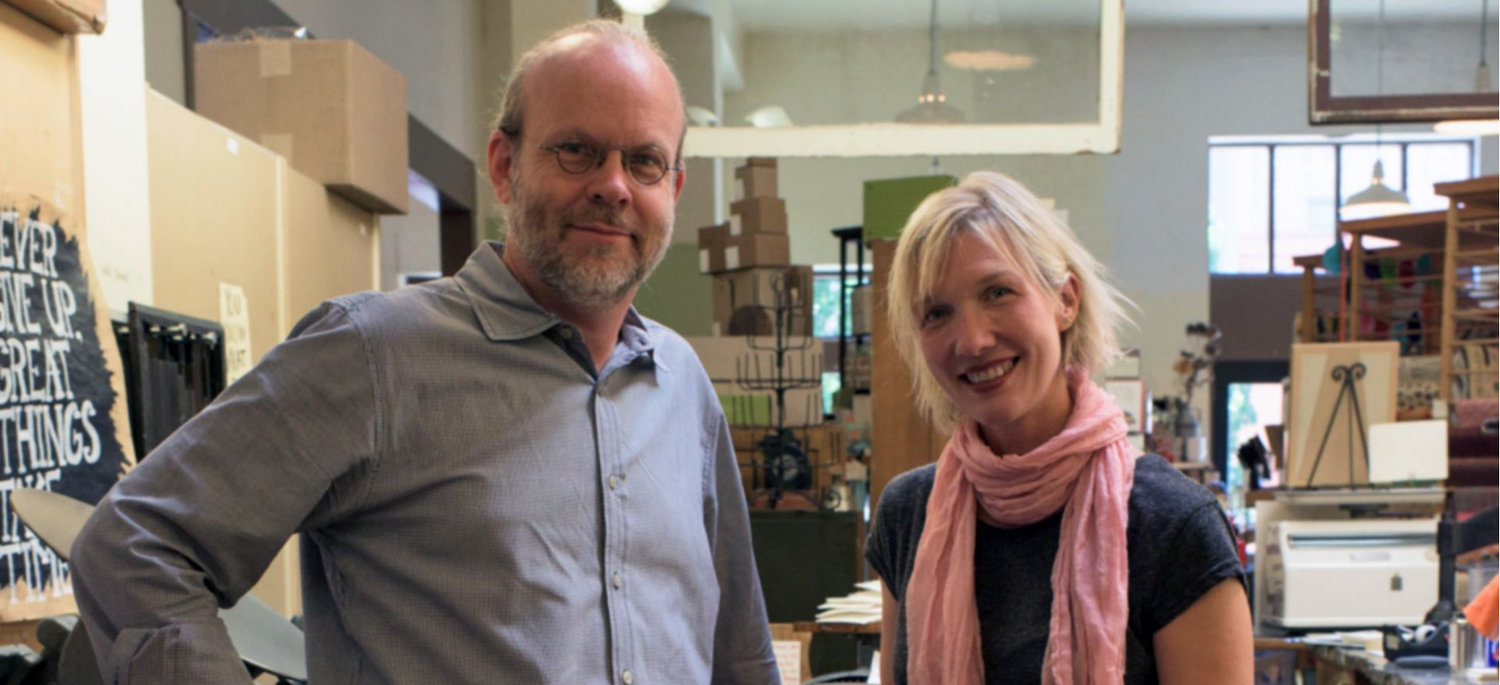 Jennifer and Ron Rich are time travelers, of sorts. Their Portland shop, Oblation Papers & Press, is a treasure trove for all things paper. Hanging from 8-foot-tall towers are around 100 different types of paper, including exotic lokta sheets from Nepal, ornate Florentine papers and fine stock from the Amalfi Coast—many of which are made using traditional methods. Stationery, custom letterpress suites and greeting cards line the walls, and their on-site paper mill produces around 75 pounds of recycled paper each week. The once run-down Pearl District warehouse is very much alive with rhythmical click-clacks of the machines. "Sometimes customers ask if there is a person taking a bath in the back," says Jennifer. "But it's just our paper mill making splashing sounds as it runs a sheet through the water."
While most people sip mai tais on their honeymoon, the couple spent their first month as newlyweds blending plants and grasses into paper pulp—that was more than 25 years ago. Since then, the couple have moved beyond do-it-yourself experimentation and now travel the world, sourcing products and learning new techniques. Just last year, they ventured to a 16th-century paper mill in Prague and later imported its handmade paper and decorative boxes to sell in their boutique. (read more)
The shopping culture in Portland, Oregon, is all about local and independent. The result is a creative mix of boutiques and shops, music venues, wellness practitioners, restaurants and coffee shops, bars, breweries and more. Tourists and Portlanders flock to the downtown neighborhoods for a true taste of Rose City culture.
Oblation Papers & Press has been in business for 25 years, the last 16 of which have been at the present location in the Pearl District of Northwest Portland. With 25 employees, owners Ron and Jennifer Rich run a bustling old-world paper boutique that includes a letterpress print shop and retail store.
Specializing in 100 percent reclaimed cotton letterpress printed social announcements, handmade in their urban paper mill, Oblation papers also offers Italian correspondence cards, French wax seals, fine fountain pens, hand-bound guest books, photo albums, journals, designer office supplies and a selection of handmade and local artist greeting cards. They also offer a wholesale product line.
Over the past few years, they have expanded their single card and boxed greetings to include their signature French Lit. Series, the Botanicals line, the Flourish Greetings printed on handmade paper as well as a line of monograms and Christmas cards. They are also the home of Hat Wig Glove, a humorous line created by owner Ron Rich. (read more)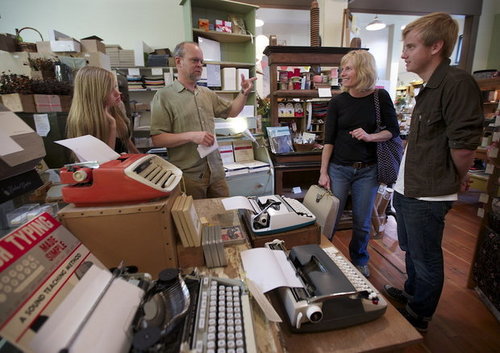 In an age of e-mail and laptop computers, there's still a place in the world for the manual typewriter -- at least in the world of Arthur Springer, who owns eight of them, and uses one of them every single day.
"Who wants a typewriter these days?" he said. "Some people do. I used to have more of them, but it was getting to be a bit much."
Springer, who is from Eugene, dropped into the Pearl District's Oblation Papers & Press on Sunday to observe International Typewriter Day, in honor of the day when the typewriter was first patented in the United States in 1868. The paper shop began selling refurbished typewriters late last year, and has discovered that there's a healthy market for vintage machines such as the portable Hermes Rocket that Springer carries with him for his business repairing commercial espresso machines at coffeehouses throughout the Willamette Valley. (read more)
In this episode of Oregon Art Beat, Leon Johnson; Christy Wyckoff; Spigot/Nann Alleman; Oblation Papers & Press are all featured. Portland's Oblation Papers and Press makes paper by hand, one sheet at a time.