Oblation Papers & Press released their first letterpress wedding invitation album in 1995, at the National Stationery Show, offering handmade papers to the wide world of buyers gathered in New York City. 
For the last 28 years we have put half a dozen custom letterpress albums out into the hands of custom consultants. In 2022, we released our latest invitation portfolio - the Slate album - combining sustainable letterpress and gold foil options on one-hundred percent recycled cotton handmade paper, made daily in our Portland, Oregon studio.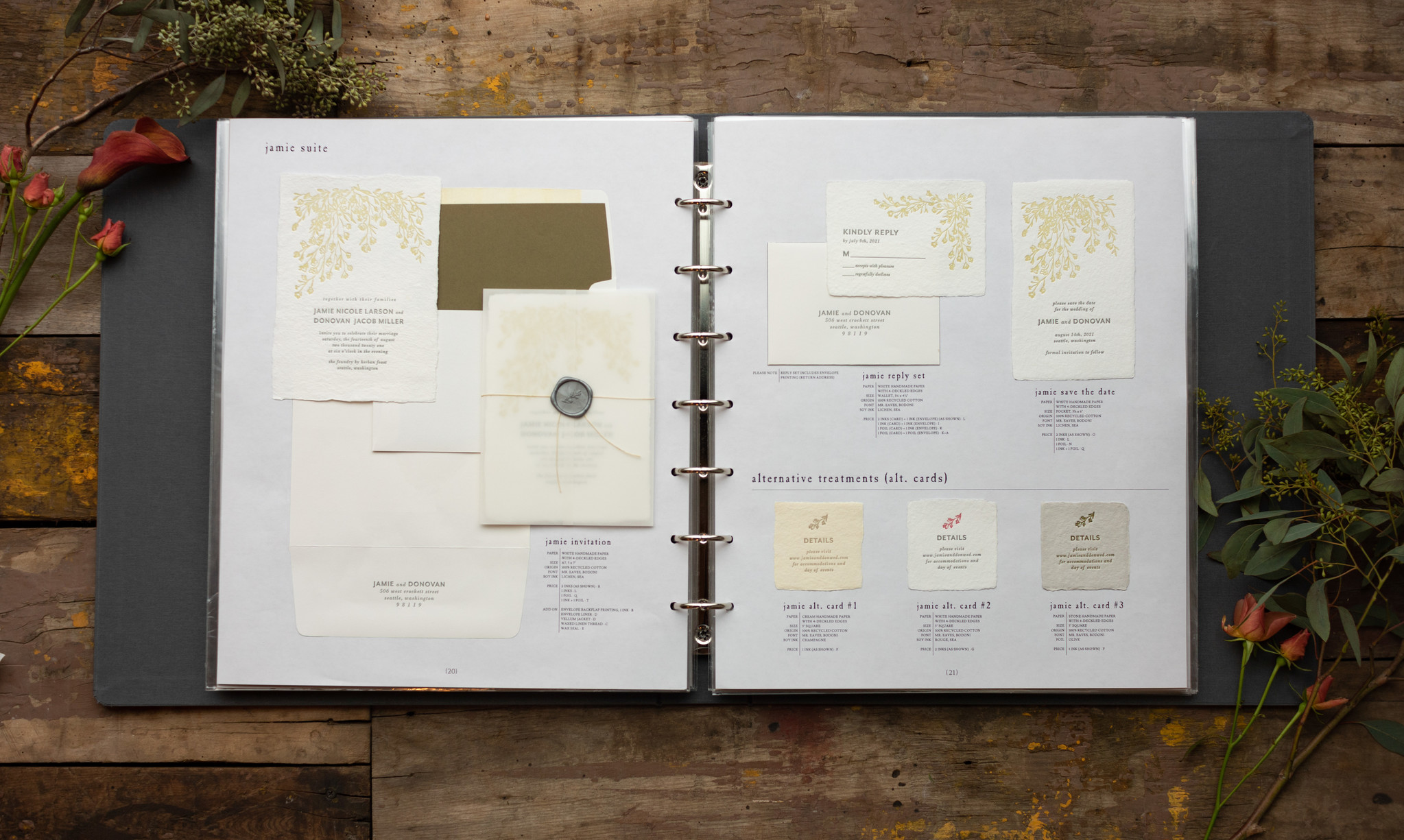 The underlying concept of this portfolio is the ease of envisioning alternate options, with 3 additional colorways included as a part of each featured invitation suite. This allows couples to imagine a suite they might be drawn to, in their own color palette. Some of these options include our own 9 handmade paper colors, with deckled or straight edges, blind embossing, transparent wraps, ribbon and ties, wax seals and envelope addressing.
With this kind of flexibility and visual bounty inside its covers, the Slate Album has proved an indispensable tool to offer the highest level of aesthetic craftsmanship to the modern couple.
The bestsellers from the album have been the Jamie and Lauren suites. The Jamie suite offers an organic look with 4 deckle paper edges and asymmetrical floral illustrations, whereas the Lauren suite features clean lines and a modern style. Although these suites have different overall aesthetics, we believe their success comes from what they have in common– our handmade paper.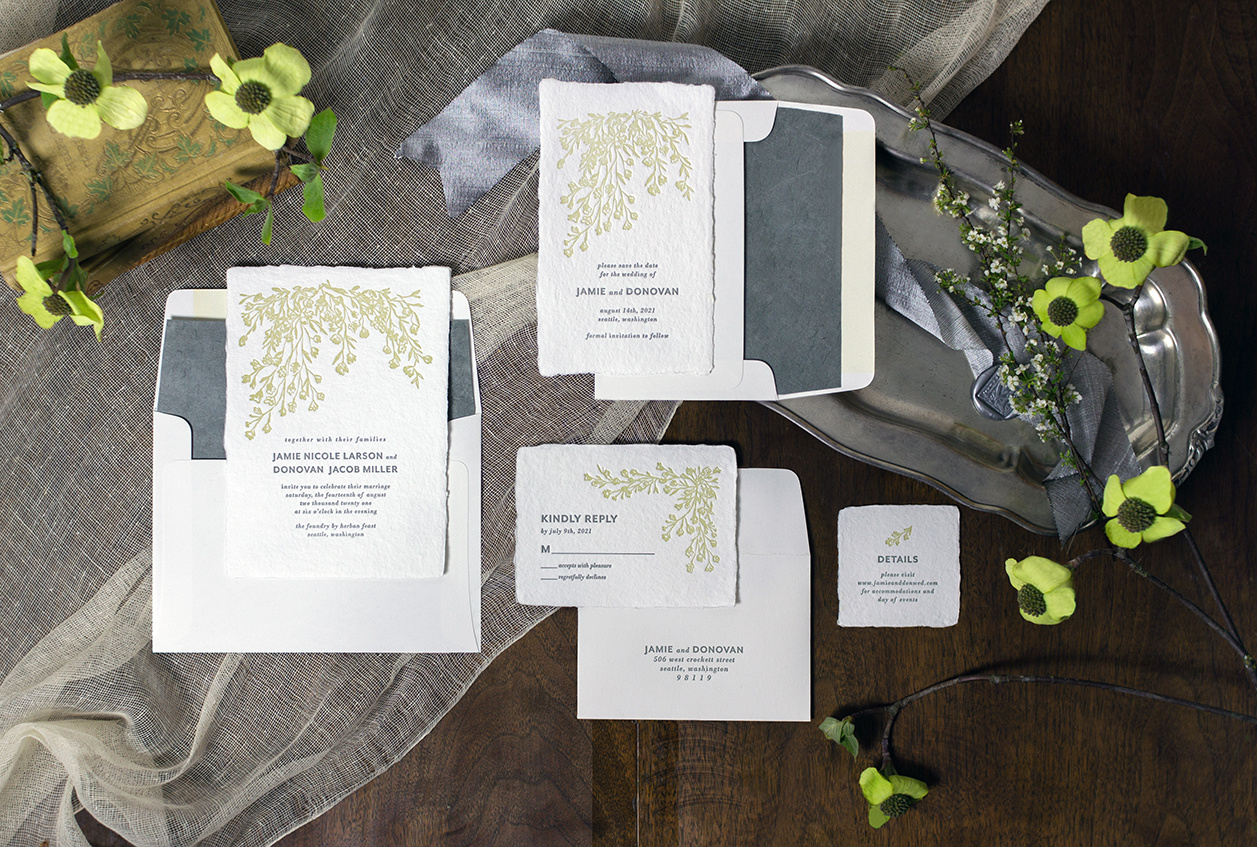 The Jamie Suite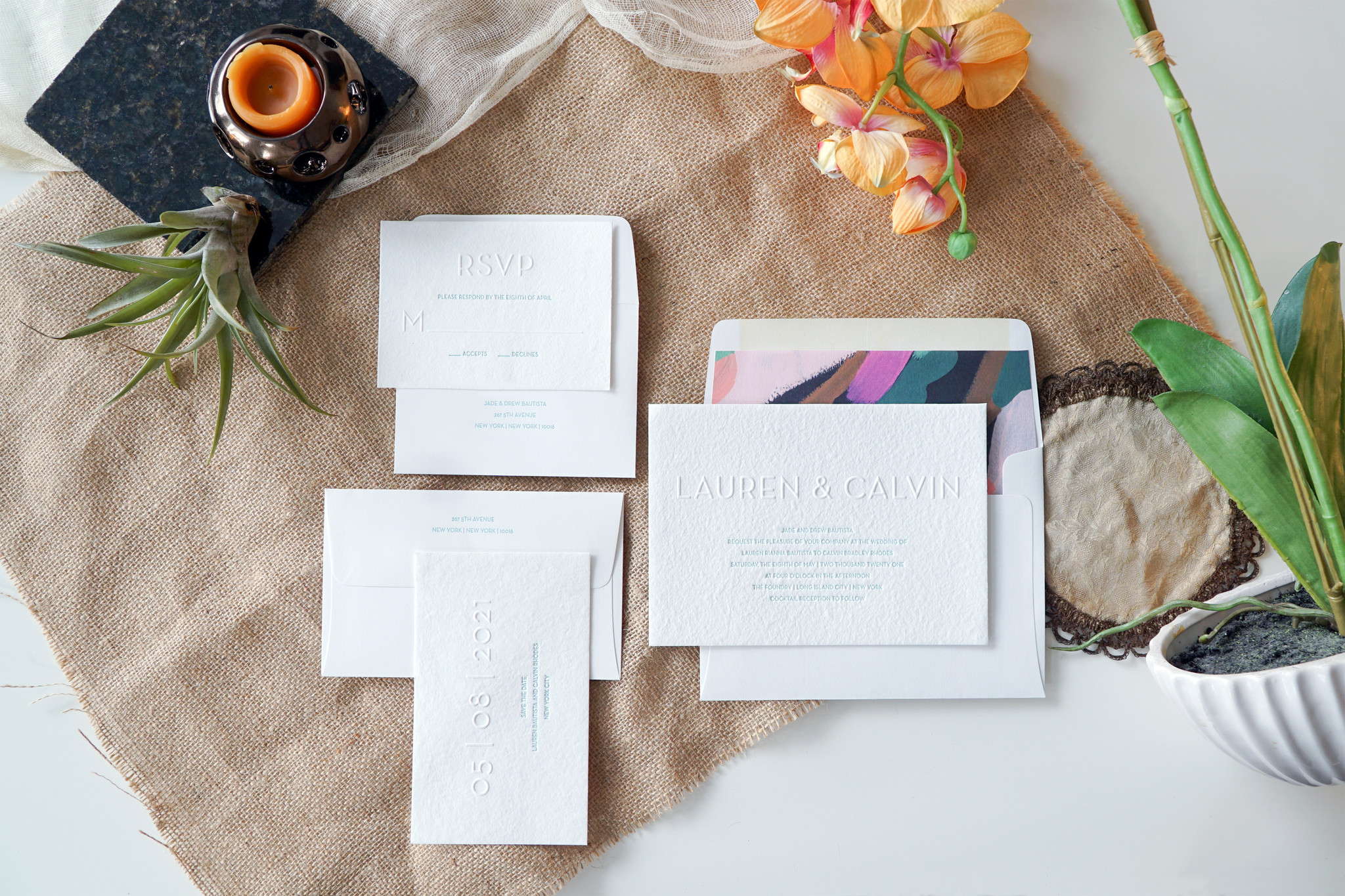 The Lauren Suite
One of our favorite suites is the Gwenyth. This suite features a calligraphy style typeface and is printed on our blush handmade paper in gold foil. This suite is simple, understated, and elegant.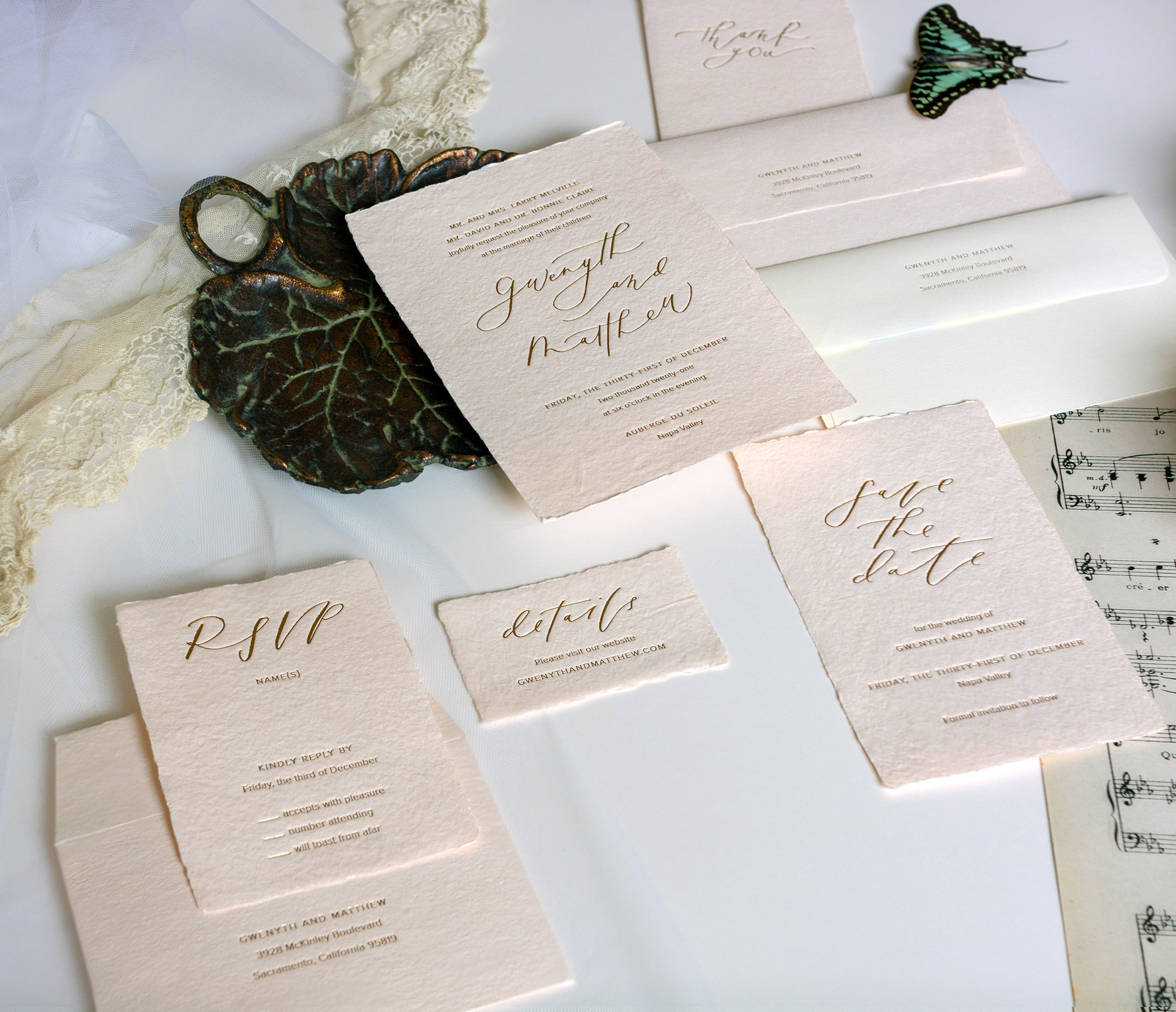 The Gwenyth Suite
We welcome newly engaged Portlanders to come browse through the Slate album in person at our retail store in the Pearl, and work with our wedding consultants to create your dream invitations. If you are not local, you can view photographs of our suites on our website and work with us via email or over the phone. Or, you can find a retailer close to you that carries our album. 
And for retailers: we still have a handful of these albums left for sale at a discounted price of $425. Included in the purchase are four $100 credits to be used one at a time on new orders.
We are grateful for the couples who have allowed us to be a small part of their big day, and for the positive feedback we've received from them. What we hear again and again is that clients appreciate our attention to detail, ease of communication, and of course, how beautiful the end product is. 
We truly hope to work with you this wedding season, and will leave you with two recent reviews below:
Our wedding invitations turned out so unique and beautiful! Oblation made it easy to communicate and edit our requests. They were prompt and always available when we had questions. The final product is gorgeous and we are so happy we used a local business for our special day! Thank you (:
-Kaitlyn from Portland, Oregon
We are beyond happy with our wedding invitations...the Emily Suite is absolutely stunning. I found this company on Etsy and was hesitant about ordering from across the country, but the design team was super responsive and attentive to detail. They exactly followed the timeline they said they would. One of my guests said that she opened her invitation and just sat in her kitchen running her fingers over the embossing and described the texture of the paper as "to die for". Highly highly recommend this company!
-Julia from Frederick, Maryland