Posted on
By Mike Williams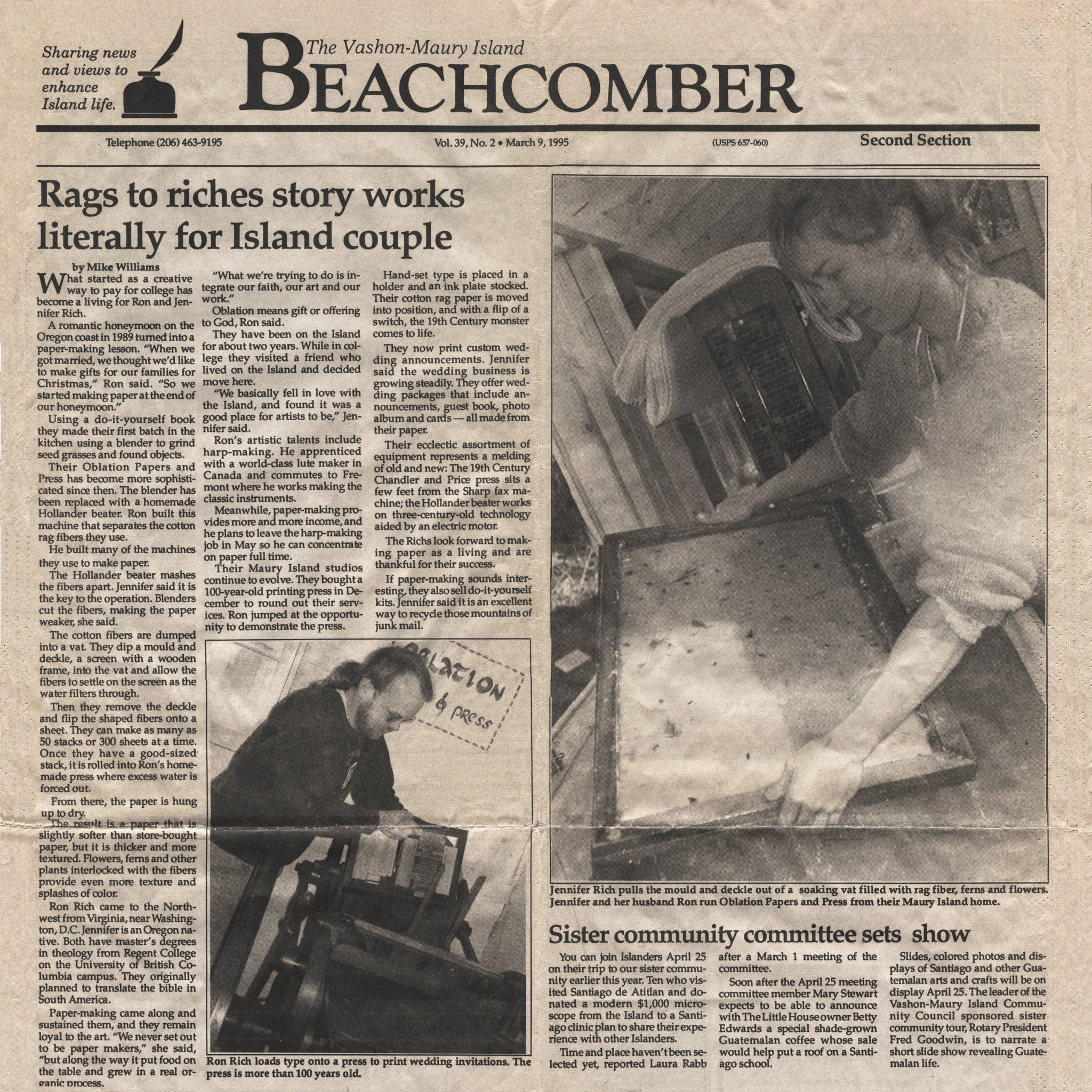 Rags to riches story works literally for Island couple
by Mike Williams, March 9, 1995
That started as a creative way to pay for college has become a living for Ron and Jennifer Rich. 
A romantic honeymoon on the Oregon coast in 1989 turned into a paper-making lesson. "When we got married, we thought we'd like to make gifts for our families for Christmas," Ron said. "So we started making paper at the end of our honeymoon."
Using a do-it-yourself book they made their first batch in the kitchen using a blender to grind seed grasses and found objects.
Their Oblation Papers and Press has become more sophisticated since then. The blender has been replaced with a homemade Hollander beater. Ron built this machine that separates the cotton rag fibers they use.
He built many of the machines they use to make paper.
The Hollander beater mashes the fibers apart. Jennifer said it is the key to the operation. Blenders cut the fibers, making the paper weaker, she said.
The cotton fibers are dumped into a vat. They dip a mould and deckle, a screen with a wooden frame, into the vat and allow the fibers to settle on the screen as the water filters through.
Then they remove the deckle and flip the shaped fibers onto a sheet. They can make as many as 50 stacks or 300 sheets at a time. Once they have a good-sized stack, it is rolled into Ron's homemade press where excess water is forced out.
From there, the paper is hung up to dry.
The result is a paper that is slightly softer than store-bought paper, but it is thicker and more textured. Flowers, ferns and other plants interlocked with the fibers provide even more texture and splashes of color.
Fig 1. Jennifer Rich pulls the mould and deckle out of a soaking vat filled with rag fiber, ferns, and flowers. Jennifer and her husband Ron run Oblation Papers and Press from their Maury Island home.
Ron Rich came to the Northwest from Virginia, near Washington, D.C. Jennifer is an Oregon native. Both have master's degrees in theology from Regent College on the University of British Columbia campus. They originally planned to translate the bible in South America. 
Paper-making came along and sustained them, and they remain loyal to the art. "We never set out to be paper makers," she said, "but along the way it put food on the table and grew in a real organic process.
"What we're trying to do is integrate our faith, our art and our work."
Oblation means gift or offering to God, Ron said.
They have been on the Island for about two years. While in college they visited a friend who lived on the Island and decided to move here.
"We basically fell in love with the Island, and found it was a good place for artists to be," Jennifer said.
Ron's artistic talents include harp-making. He apprenticed with a world-class lute maker in Canada and commutes to Fremont where he works making the classic instruments.
Meanwhile, paper-making provides more and more income, and he plans to leave the harp-making job in May so he can concentrate on paper full time. Their Maury Island studios continue to evolve. They bought a 100-year-old printing press in December to round out their services. Ron jumped at the opportunity to demonstrate the press.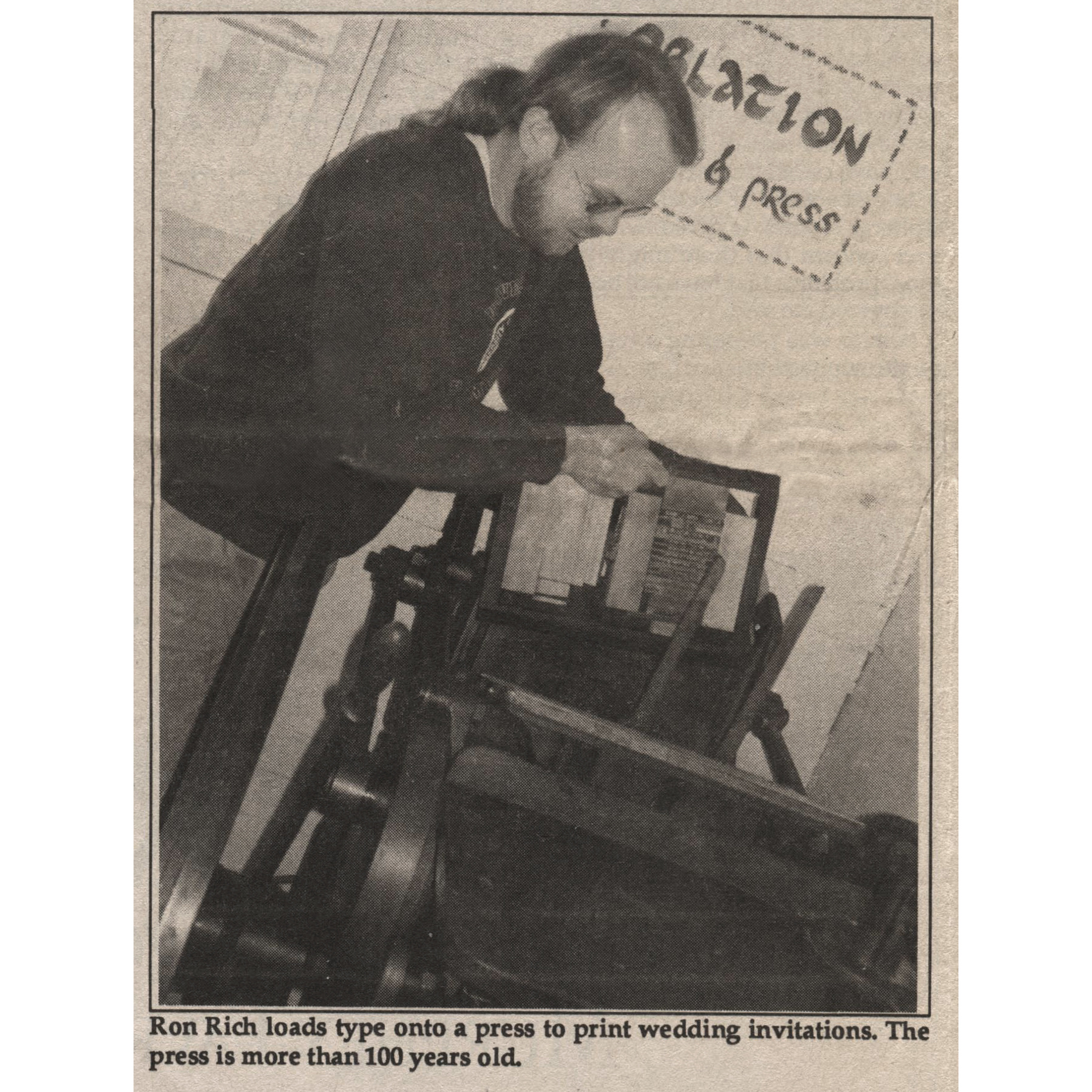 Fig 2. Ron Rich loads type onto a press to print wedding invitations. The press is more than 100 years old.
Hand-set type is placed in a holder and an ink plate stocked. Their cotton rag paper is moved into position, and with a flip of a switch, the 19th Century monster comes to life. They now print custom wedding announcements. Jennifer said the wedding business is growing steadily. They offer wedding packages that include announcements, guest books, photo albums and cards--all made from their paper.
Their eclectic assortment of equipment represents a melding of old and new: The 19th Century Chandler and Price press sits a few feet from the Sharp fax machine; the Hollander beater works on three-century-old technology aided by an electric motor.
The Rich's look forward to making paper as a living and are thankful for their success. If paper-making sounds interesting, they also sell do-it-yourself kits. Jennifer said it is an excellent way to recycle those mountains of junk mail.