As of today, there are a total of five TRC Partner Shops in the United States: Oblation Paper and Press, Omoi Zakka Shop, Yoseka Stationery, The Paper Seahorse, and Two Hands Paperie. This spring, TRAVELER'S COMPANY USA reached out to each US Partner Shop to share with us such encounters – artists in their city that are also avid TRAVELER'S notebook users. We think it would be interesting to see each Partner Shop through the artists' lens and share it with fans of TRAVELER'S notebook around the country!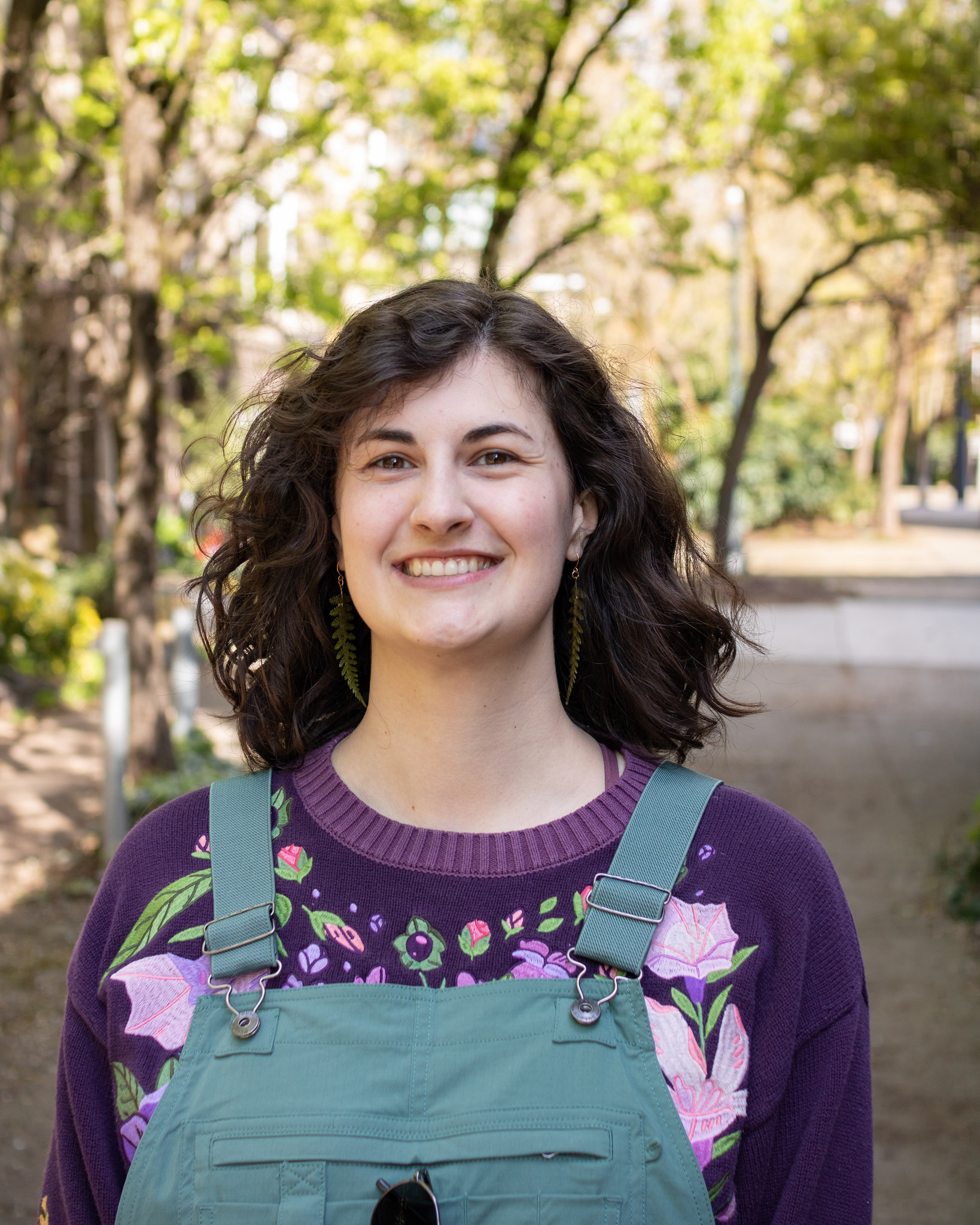 Andrea Grillo (Andi for short) first discovered TRAVELER'S notebook when she started working at Oblation Papers and Press as a designer and artist. She immediately fell in love with the versatility of the inserts and the leather cover. Andi loves using her TRAVELER'S notebook for drawing and sketching out ideas in her head. The slim size allows her to easily pull it out at a coffee shop to draw quick doodles or start a new project.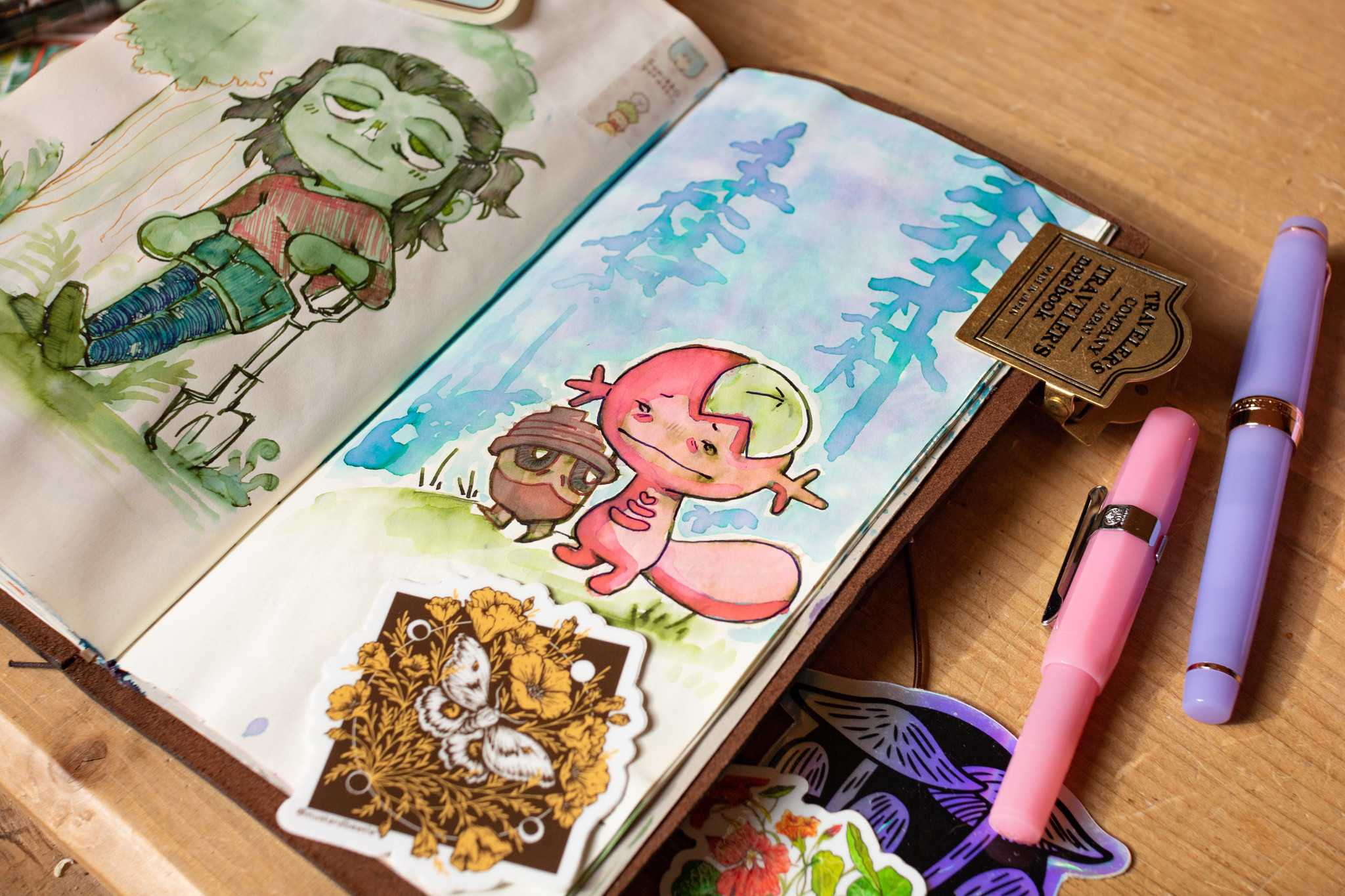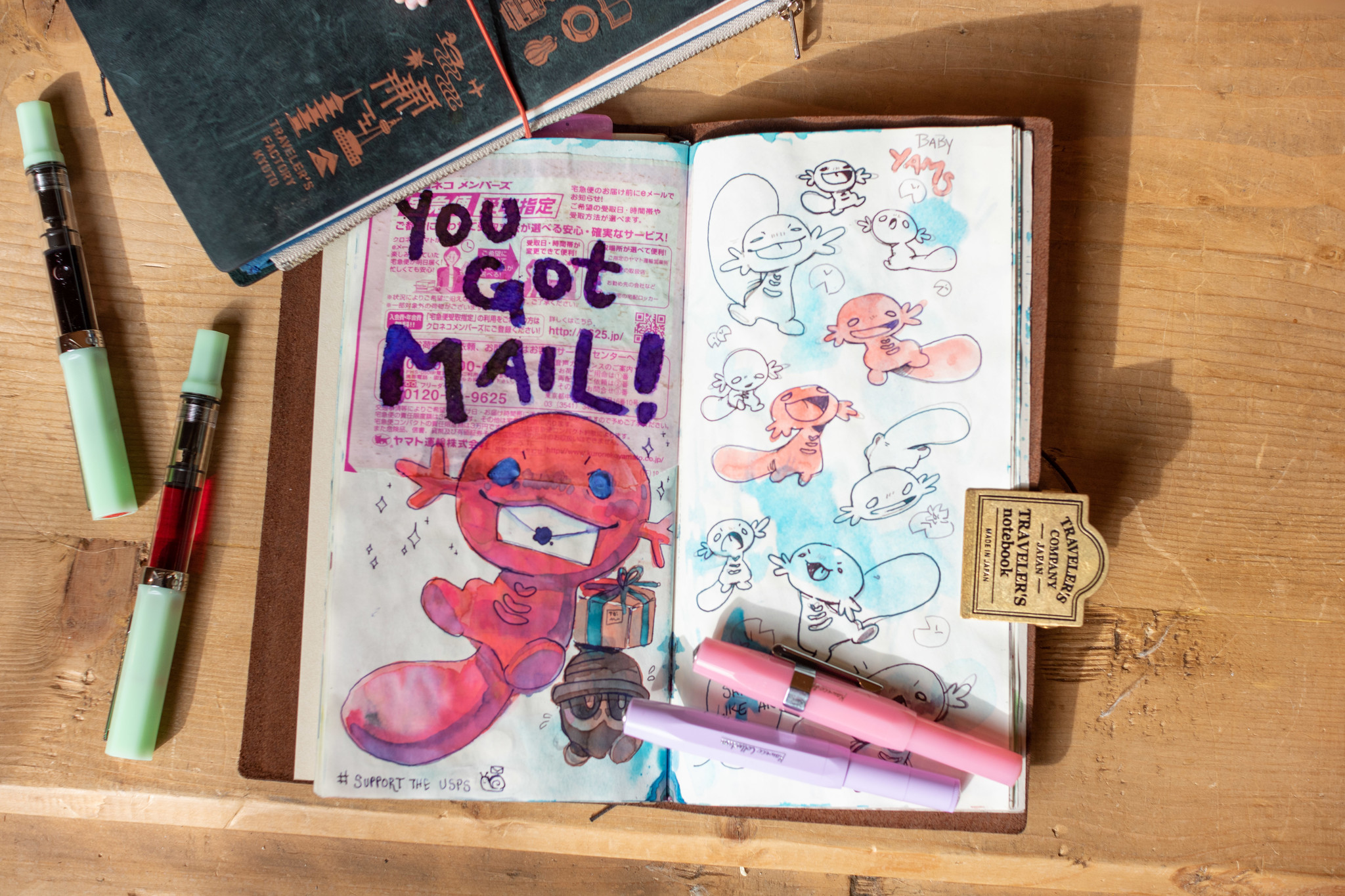 Andi has been drawing as long as she's had access to crayons – constantly getting into trouble for doodling or drawing in class. However, she pursued this hobby and turned it into her profession, majoring in Fine Arts with a focus in Printmaking and Graphic Design at Oregon State University. Her notebooks are filled with illustrations inspired by comic, cartoon, and manga styles.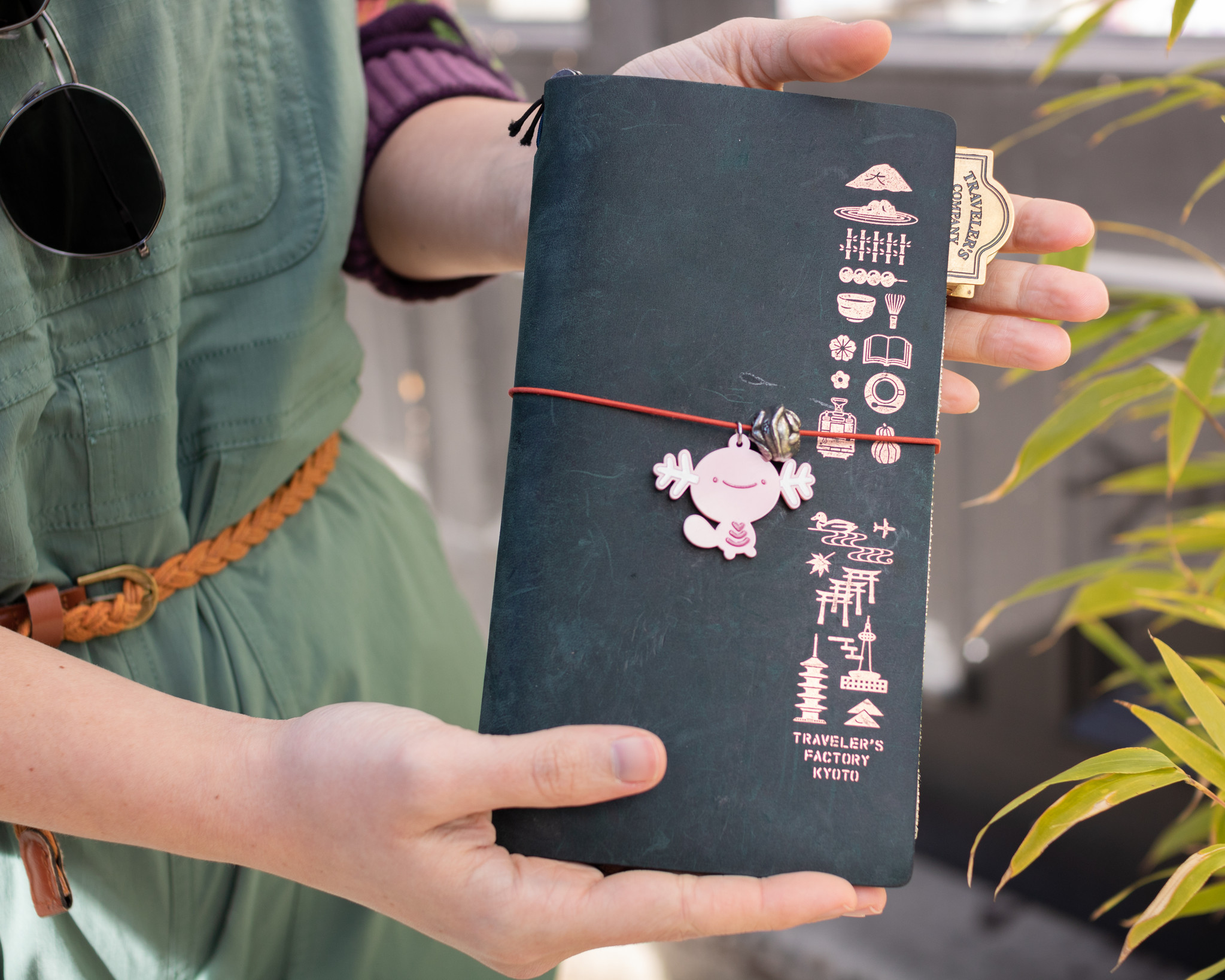 In this postcard, she attempts to capture the energy of Portland surrounding Oblation as a piece out of a comic page. If you hone into every corner, you'll see details of Pearl District and its captivating energy filling the entire composition. The color scheme is representational of her personal experience—the brilliant sunset she sees on the drive home every day.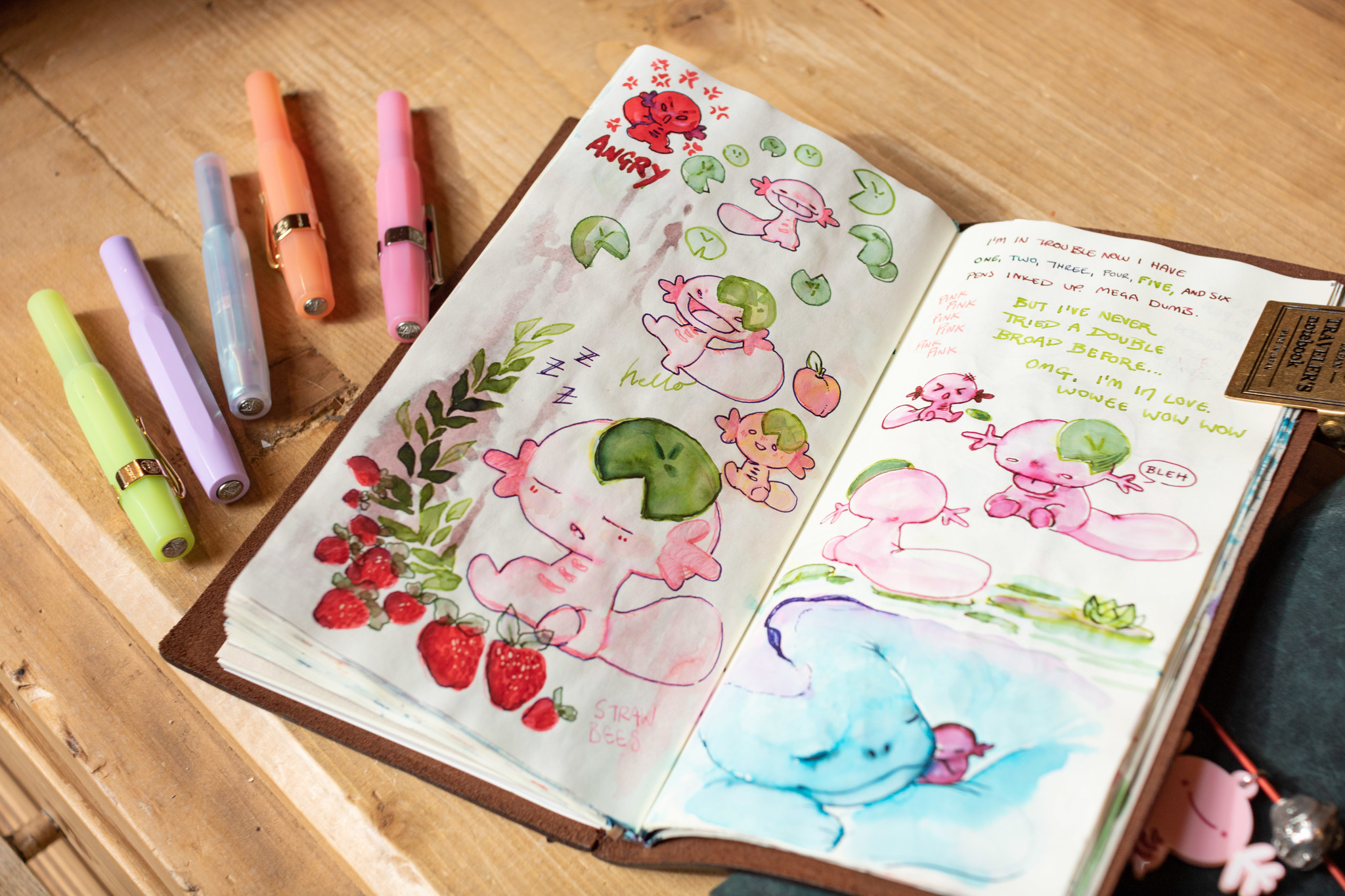 Andi started working at Oblation in the summer of 2021 and was constantly inspired by the stories of other TRAVELER'S notebook users that come into the store. She describes TRAVELER'S notebook as "refreshing" because it's very inspiring to peek in someone's TRAVELER'S notebook and get a snippet of their day-to-day adventures. She enjoys sharing her own notebook pages when customers ask about TRAVELER'S notebook – showing users that they can do more than just journaling or collage in the notebook!
Purchase her Oblation Papers & Press Postcard here!