this month, oblation papers & press co-owner and founder, jennifer rich, published her first book! the book, prayer spa, is "an invitation to nourish your mind, body and soul through contemplative prayer and celebrate beauty through your five senses with this gentle instruction for each day's offering."
for those who don't know, oblation means "an offering to God." jennifer and her husband, ron, have always woven their faith into all aspects of their life, including their store. jennifer will be reading from the book during this month's event, "wellness & the five senses", but we wanted to learn more about the book and the inspiration behind it.
why did you write prayer spa?
after 25 years in the protestant church, followed by 25 years in the orthodox church, i felt compelled to share this treasure of the apostolic faith with those who might be seeking this kind of connection. i love the depth of christianity i've discovered in the second half of my life. yet the treasure of the orthodox faith remains so underground in this culture, both preserved and obscured by the ethnic peoples who brought it to america.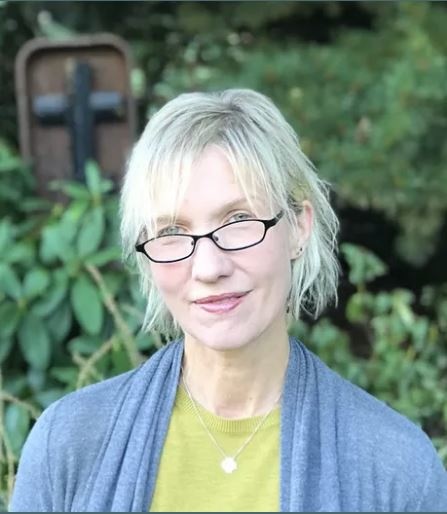 was there any "cross pollination" between your work on the book and your work at oblation?
after 30 years in the stationery world, i would say that the importance of beautiful packaging has permeated my approach to many aspects of life: a colorful platter of fresh vegetables, a well-balanced living room scenario, a delightfully labeled bag of homemade cookies. with prayer spa, one of my goals was to organize the essentials of eastern christian prayer into a succinct package, 'tools for therapy' for those who might wish for a clear view into this approach.
i also print prayer books and prayer cards in my letterpress studio at home. poustinia press is an extension of my letterpress beginnings at oblation papers & press. some of this work is represented in the pages of prayer spa, like the prayer card for daily prayers, and the gratitude journal made by oblation.
are paper or ink included in any of the rituals in your book?
i talk about writing down gratitudes and petitions for daily remembrance. pencils are great for this, for flexibility as these things may change and grow. it's good to document important thoughts and answered prayers, so we don't forget...
do you use journaling as a spiritual tool? if so, how?
i take a personal monastery retreat each january, to read and pray and reflect on the year past and the one to come. since i'm not so great at journaling throughout the year, i don't beat myself up about that, but focus on this time to record the major events in the journals i keep for each of my daughters, and for myself.
how has prayer changed in your life?
for many years i have desired to desire to pray, but have not always felt this way. now i crave going to my prayer corner each morning, to stretch my mind, body and soul toward God, and come away refreshed as a whole person. if i miss my morning prayers, i feel a bit disconnected, and my muscles feel tight during the day. just a few simple stretches help a lot, and a few moments of quiet with the One who made me.
what kind of juggling do you specialize in?
well, running a multi-faceted paper business with my husband, a full staff and lots of travel, facilitating the activities of two kids and their horses, throw in a couple of church ministries, and a farm ... life is constantly tossing me more activities than seem humanly possible. i try to prioritize the important stuff, delegate to the competent people around me, let a lot of things go, and honor some time for myself most mornings.
what is one simple prayer to begin with?
father anthony bloom talked about 'gathering the crumbs of wasted time'. find an intentional space to be still and relax, say to God, 'here i am', then simply rest in His presence for a few intimate moments, before moving forward in your day.